Sunday, November 4, 2007

High School Night Drama
pondered last 4:17 PM Bagong layout, bagong layout. Marunong na ko magflash.:P Salamat nga pala sa mga nasa creds.

HS Night thought.

Premiere post ng bagong LO...



As the moon crept closer and closer to the middle of the sky and as the clouds began to block its beautiful, bright light, the mood of the festivity became a lot more mellow. People began to scatter and look for their special partner as the first love song played. Couples were made and unfolded. The innocent awoke, introduced to the mistress called Love. People who were alone stayed alone until someone would knock into their door and request for a dance. There were some, however, that were left at the side of the dancefloor, destined to dance with their own shadow.

The dancefloor was filled with love, passion, emotion, and bliss. On the other hand, sadness and jealousy filled the chairs and tables around it. There was one certain person who had danced his heart out one time, but had to sit down and be lonely again. It's not because he's to shy too ask the person he wants to dance with, but it's because the person he wants to dance with wasn't within his reach.

Jealousy overshadowed him. Questions like "How'd they get so lucky?" filled his mind. He thought his night was ruined. But thankfully, a friend of his came to his rescue. He was told that he need not worry because by the time that they were done dancing, you'll get your turn.

It started to rain. He looked to the horizon and saw a lamp post and a moth trying to fly to the light. The poor little creature was hit by raindrop after raindrop after raindrop, and yet, he still flew and made it to the lamp. The lonely lad then realized that no matter what obstacles he would have to face, he'd persevere just to be with the one he loves.

When he got home, he was surprised to see that she was calling him. After a rough night, he got to be with the one in his eyes.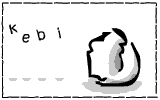 Permalink
::