Saturday, March 31, 2007

first formal post.XD -- The Power of the Heart and Mind
pondered last 4:48 PM

I did this for my English subject before. I haven't got a clue on what to post, so I'm just gonna post this. Hope you like it.



"The Power of the Heart and Mind"


These two are responsible for making decisions for us, may it be an academic question, a guess, or a decision. They're like twins, they have a lot of similarities. They make a great team, though they do have their differences. One says this, but then the other sometimes contradicts. The two aren't exactly living things, but for me, they're a manifestation of what we use to make decisions with. These are the heart and the mind.


As a team, they are a great help. They can tell us what to wear, eat, or drink because both of them know what we like and what we don't. They can help us with what to say, what to write, what to type, etc. They can also tell black from white, has/have from had, dirty from clean (most of the time), or doctor-prescribed drugs from illegal drugs. The downside is, if one is missing, the other won't work really well. That goes for both of them. Still, they really make a great team.


Earlier, I said that they have their differences. Heck, everybody does. Still, that's not the point. Though they're a lot more alike than twins, they still have their opposites. For example, the heart does the thinking and the mind translates what the heart wants to say so that it won't be so complicated. Without the mind, the things that the heart would want to say will be gibberish. And without the heart, who knows what the mind would say? Also, the heart would also tell you what to do based on your feelings, while the mind would tell you what to do based on equations, hypotheses, things that are explainable by science, or logic. So eventually, they would fight because they would give different answers. They would also fight about their positions in your body. Because the heart is in your chest and the mind is in your head, the heart would always complain and try to beat up the mind. Fortunately, they can't punch each other because they're both attached to your other internal organs.


Though they don't get along well, they still make a good team. They not only help others, but they also help their owners, us. And with their powers, they help write our story, our life.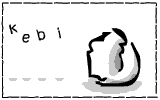 Permalink
::